The second fundraiser party allowed us to buy suspension parts, a front axle and a banjo differential, all from a what appeared to be a 1940 ford chassis, rotting upside down at the scrap yard... here's some pics of that lot...
the backing plates are the 1940 type but the drums aren't.. i don't know what they are...but whatever...we also scored some buick drums and they might endup on the car instead of those.
The Club Members started wondering about the decision making for the design of the car and the idea of a club-car was starting to bring questions about ownership etc... i offerd to buy the project from the club and used the club money to buy tools everyone could use.
I now owned the frame and parts and the club bought an air compressor and air tools.
next I found this 1931 Ford model A Coupe for sale on Ebay, and it was alocated in Ontario. I won the auction and went to get the car with a Uhaul trailer. it came on a chevy S-10 Frame and had a ford 9" rear end, shortened for a drag racing setup...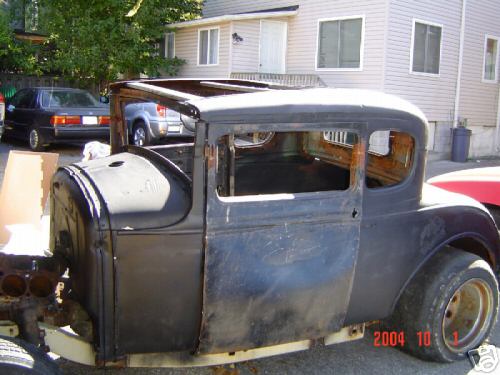 at the scrap yard i had spotted a 1949 Monarch (Canadian Mercury) and it was a pretty sweet deal ...and since I had the Uhaul Trailer... I got tempted !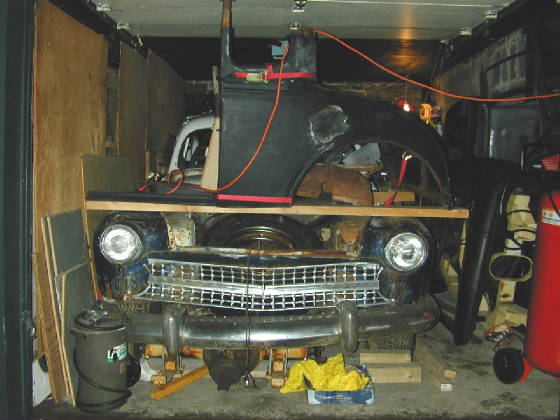 the only problem is I only had a one car garage at the time and so I had to chop up that hotrod to fit on top and around the 'merc'...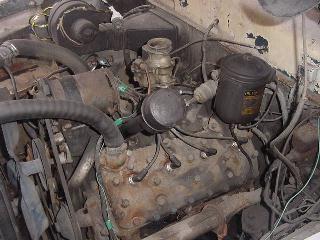 I had this Flathead from a 1953 Ford car that I was gonna restore... the car is back at the scrap yard and the flattie and trans are keepers for the project.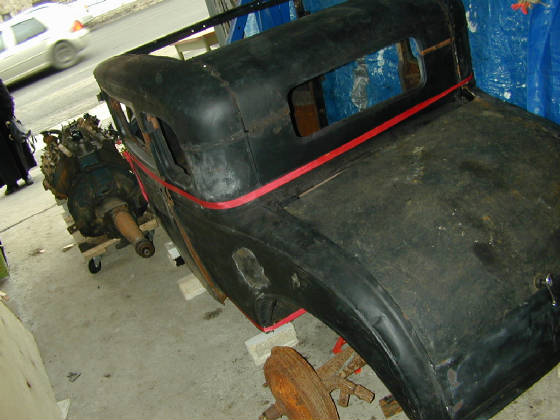 we were able to get the adjacent garage and mocked up the the car to contemplate that nothing fits ( inherent to hot-rodding)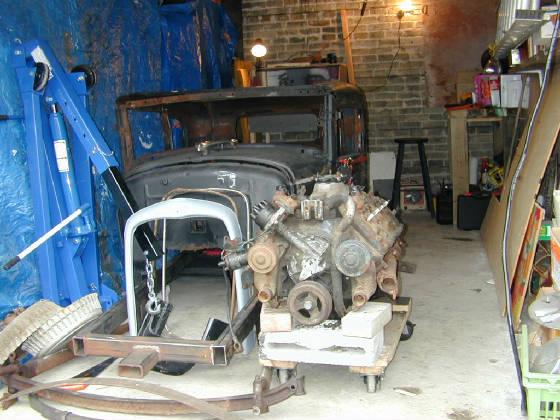 this is about where we're at for now. I thinking about getting another frame... I think I prefer the traditional crossmember suspension and having a frame that is Z'd in the back would make the car sit lower like I imagine it. ((( March 2005 ))))